Ten Year Anniversary for NZ Roadside!
Posted by NZRA on 10 July 2018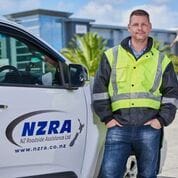 Wow how time flies by! Its hard to believe we have now been in business as NZ Roadside Assistance for 10 years.
This is a great achievement and a milestone for us as a business. I am very proud of how far we have come since our early days working from a house in Takapuna, to now owning our own premises housing all our staff and the call centre in Albany.
I would like to thanks all my key staff, business partners and the people that have come and gone over the years, who have supported and assisted in developing the company into what it is today.
Starting out in 2008 with our first client as a small rental vehicle company, to now managing over 200 key accounts from SME's to large corporates.
Thank you very much to our 24/7 Nationwide service provider network who are the eyes and ears of our business out there on the Roadside, we couldnt have done it without you all.
Lastly a big thank you to all our clients who trust us with their brands, business and customers.
We appreciate your custom and look forward to many more prosperous years / decades, partenering with you and supporting your businesses!